Mon Naturals: Testimonial
Company Description
Mon Naturals are a local family business established in 2016 to facilitate the commercialization of the family's Traditional Clay Mineral Balm Eliawen which has been passed down from generation to generation.
Project Details
Company: Mon Naturals
CPE partner: University of Aberystwyth
Location: Gwynedd
"We at Mon Naturals were really impressed with CPE and their project capabilities. After initially agreeing to a possible collaboration with the CPE team, a project was put in place and up and running in no time. This process was efficient and allowed the focus to be on the project rather than the paperwork. From the start this has been a positive experience and I can only thank the team for their professionalism."
Ianto Jones (Managing Director), Mon Naturals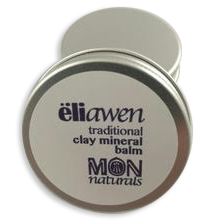 Eliawen is over 200 years old and follows the original recipe and consists of two indigenous ingredients one of which is Welsh slate.
The balm has traditionally been used on burns and wounds where it dabbed on to the area and then covered with a dressing for at least 36 hours. Local tests over a 6 year period have shown that it can also help other external skin conditions. Through research and collaboration with multiple universities across Wales, including CPE, and validation through clinical trials, Mon Naturals aim to have their product available to NHS patients.